There is tons of reasons for Lord of the Rings Online to be the number one online game, too many for me to tell you about now, but I can tell you of some of them and at the same time share my experience from the game.
Klick
here
to get to the official Lotro homepage, or klick
here
to get to the European homepage where you can download patches if desired since American(

) patches doesn't work with European clients.
BTW!! Read the review on
gamereactor.se
.
Account info
(first of all!! If you're gonna try the game out, make sure to play on the server "Snowbourn" since that's the server Virre, I and strdav play on)
Before starting up I'm gonna tell you how easy it is to start an account. If you feel like you would like to try this game out for some time you can go to
trylotro.com
to, without any subscription or anything, generate a 14-day trail key, then make your Lotro Account (it takes 3 minutes). You don't need to buy anything to make your account only fill in your mail and stuff, then log into your account on the web and press add subscription, but instead of typing a game card-code you type in the generated key, and there you have it, 14 days of free playing-time to explore Lotro. But you'll need to download the game or borrow it from a friend. then if you feel like you'd want to step into the world of lord of the rings for real and buy the game, you'll just have to upgrade your account by typing in the key you get in the box from the store, then you are a full-fledged traveller of Middle-earth.
Now to the real stuff
To start up with, Lotro is an amazing game in itself. It has amazingly beautiful graphics to make the world, not only feel incredible, but look spectacular at the same time without demanding too much of your computer. There is a very big and beautiful world that you can explore as you want yourself, and go doing thousands of fun and inovative quests all over the world. When I say fun and inovative I mean it. the quests are much more varied than in other games such as World of Warcraft (I know, the game is 4 years old, but they didn't have less imagination back in those days, did they?), you solve puzzles, solve riddles, go through chains of quests that is liks little stories themselves and as well as in other MMORPGs there's a lot of killing too and lots, lots more.
I'm sorry, but I just have to compare WoW and Lotro one time here. As we all know the world in WoW is kin'a big, but think about it. There is lot's of just ground that they have raised and lowered a little here and there and put in some trees and then there is houses. In WoW there are only a few different houses that they have copied and pasted all over the world only with different textures. No matter what inn you enter or what little keep you run in to, they all look the same only with different textures on the walls, so you'll soon know the way to everything even in that house you've never been to in that distant land.
But in Lotro every single piece of land is made like if they assigned one employee per square meter. every house is uniqe, you won't find one single place in lotro that is the same whether it is a house, a cave or a small clearing in the woods.
The Lord of the Rings Online is so filled with stuff to do. Even though there is tons of quests there is tons of things to do besides questing! I won't sit here telling you what you should like to do, you need to find out yourself. But there is one thing that I think is very cool (that doesn't actually affect the gameplay, but still). It does not necessarily have to attract all ppl, but the feature is... that you can take photos in the game. A simple klicking at
Print Screen
and the screen gets saved and stored in your own lotro-photo map for you to look at any time. I've really enjoyed this feature. I've taken pictures from many of my journeys with Dogrim (Virre) and from lots of other memorable moments, in fact I've taken over 1 200 pictures. I don't know if that's a lot, but that at least shows how much I appreciate this feature.
The beginning
Now I'm gonna tell you a litte about the beginning of the game, how you create a character, how the menues look and so on.
WARNING! This may be a small spoiler if you're thinking of buying the game.
First you have to log in and choose your server. here you can also see news about lotro and other usefull stuff. As you see the loging screen is not that fancy, but even if you're really into loging screens you'll overlook this one since the game is so amazing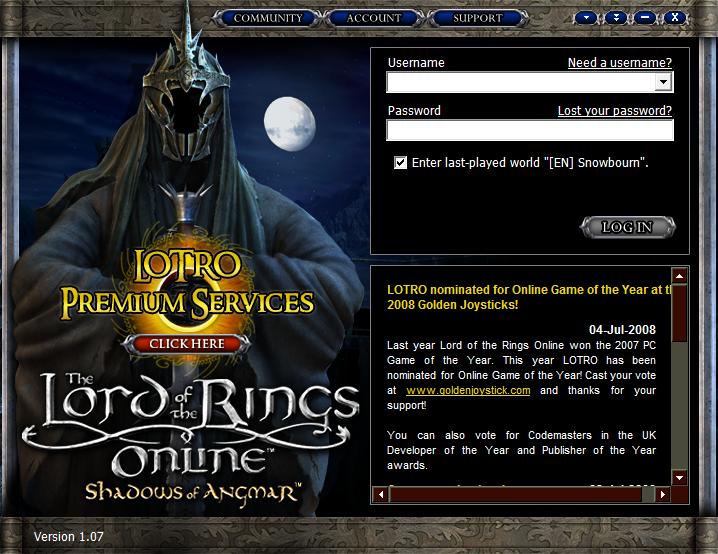 First time you start up the game you get to the character creation screen. In this first step you choose your race. To the right there is information about each race and there is also an introduction movie for each race that you can watch which is pretty neat. The screen is rotateble 360 degrees.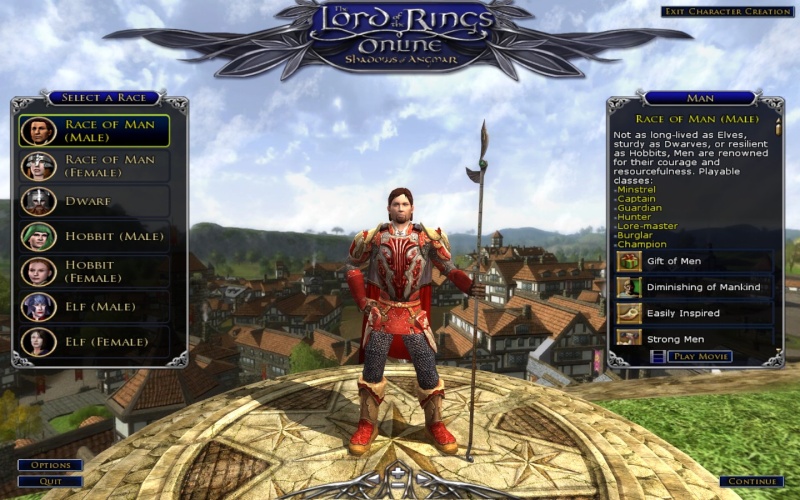 When you have chosen your race you'll need to choose your class. Today there are 7 classes but with the Mines of Moria expansion pack there will be two more. To the right there is information about the different classes and there is as well as with the races a little instructional video for every class.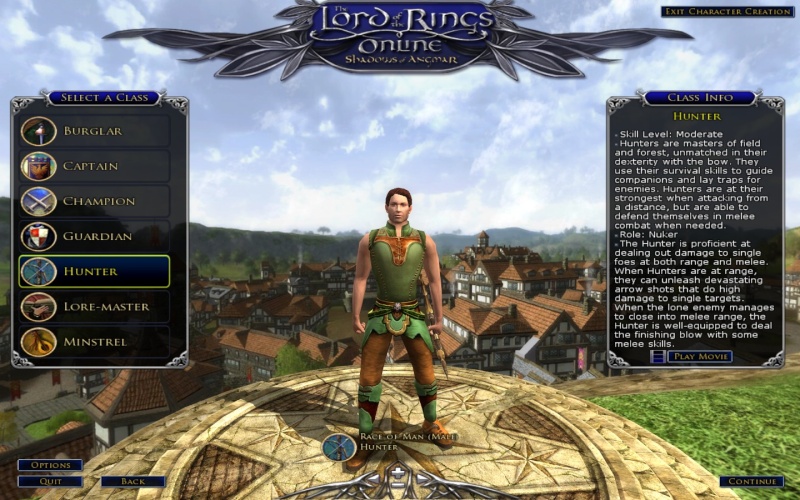 Now, after choosing class, you're ready to customise your character. First off, in the bottom left hand corner, you choose where you want your character to hail from, (if you've read Bilbo you'll know the place where this character hail from well). Then you choose head, hair style, facial hair, eyes, eyebrows, mouth and details (such as scars, wrinkles and stuff). Then you need to choose eye, skin and hair colour from the paletts. Then you choose your body type, you know, fat-muscular. Last but not least you choose the name of your character. Keep in mind that the name needs to fit in J.R.R Tolkiens world. You have got some help creating your name in the window. the name helping differes depending on your hailing origin.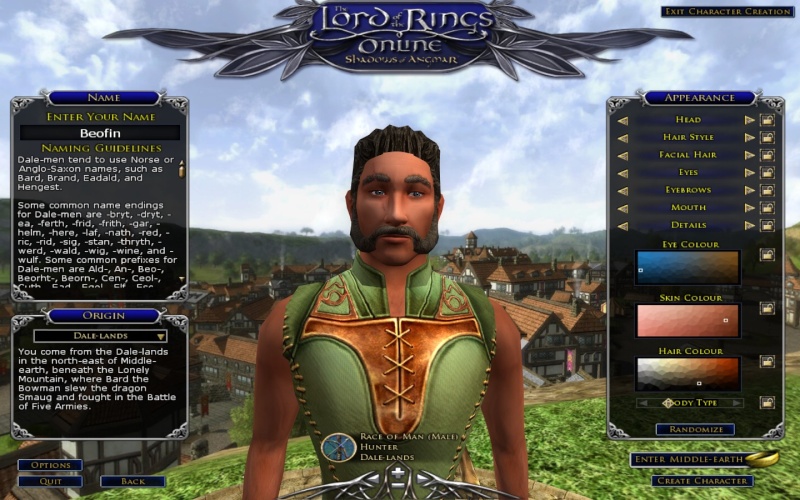 When you have created your character you start off in an instance. When you are man you are in this prison that you'll need to escape from. The insctance is very short and is there for learning you the basics of the game. every time you encounter someting new you will get small tutorial hints, those will continiue poping up the enire game when you encounter something new, but you can shut them off if they annoy you.
You'll get to fight your way through the prison. That barbed arrow will hurt very much in his back.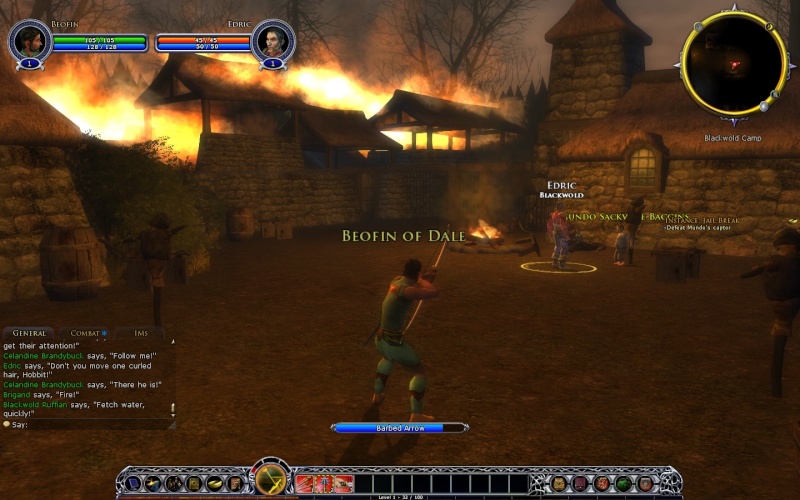 In the epic (main) quests there will be lots of dramatic AND dynamic scenes happening before your eyes. There is very few cut scenes where you can't move at all.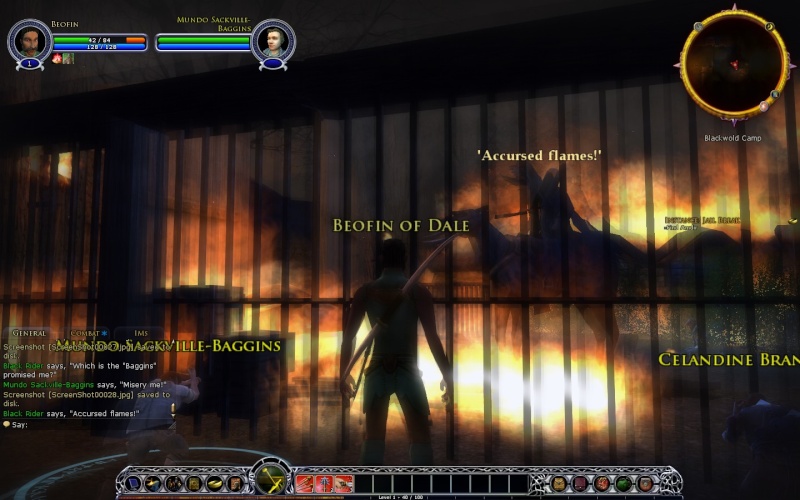 Even though there are not many cut scenes that is just a video clip there is one after you've ecaped from the prison telling you what happens after the escaping, then you end up in this small town named Archet.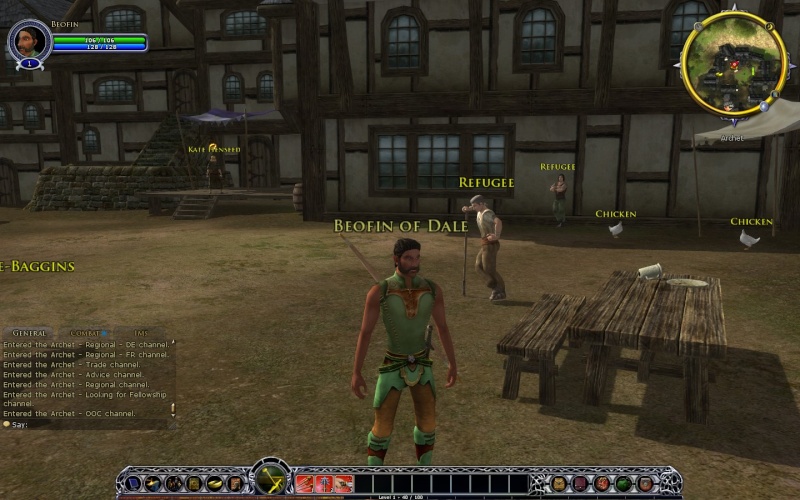 After some time you'll notice that the gate to the rest of the world is closed due to some disturbance. To get out you'll need to do some epic quests, but there'll be other quests as well of course.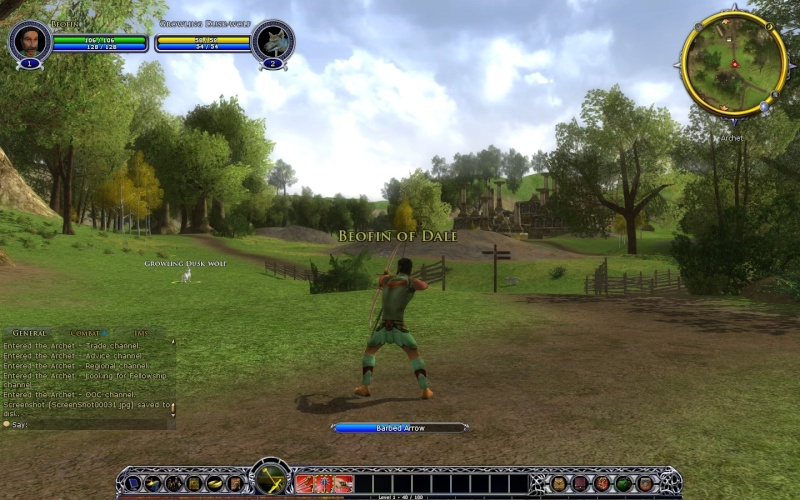 While you undertake your quest you'll notice that there is quite a landscape to enjoy and play arround in before you later on are ready to step out in the wide, wide world full of adventures.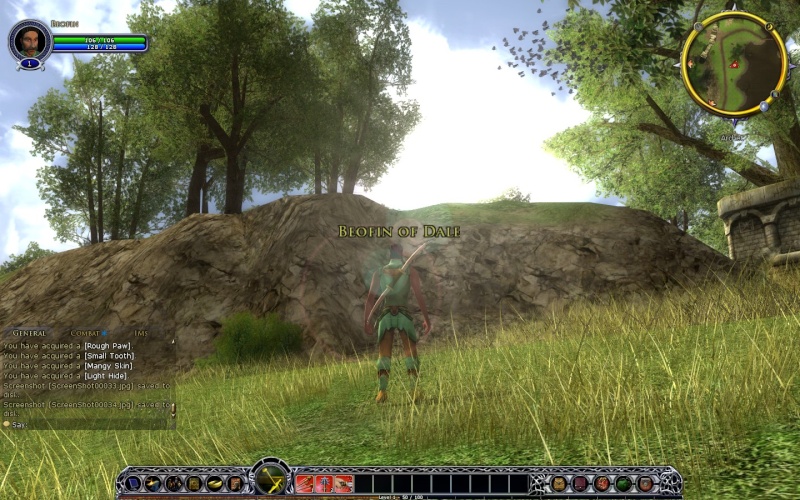 It took me 6 hours to write this message and now I'm done!